Good Practice
Cliffe Packaging Limited and its employees accept no liability whatsoever in relation to the interpretation and any advice given regarding the safe handling of FIBC products.
Standard Aggregate FIBCs
Dimensions 90 x 90 x 90 cm or
85 x 85 x 87 cm.
Safe Working Load = 1,000kgs.
Safety Factor = 5:1 (tested to five times the safe working load) -Minimum single trip requirement.
FIBCs are designed for single trip use. THEY ARE NOT TO BE REUSED.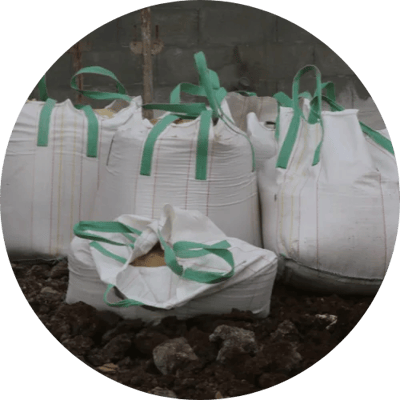 Filling FIBCs
Make sure all lifting loops are attached to the filling rig/suspended on the fork lift prongs.
If possible, the base of the bag should be supported (ground or pallet).
Lifting loops mustbe at 90 degrees.
Ensure the FIBC is filled evenly.
Make sure the FIBC is stable before storage and double stacking.
Emptying FIBCs
FIBCs discharge by gravity.
Make sure the FIBC is securely suspended.
Make sure area below is clear of personnel.
Do not place self underneath suspended bag.
FIBCs can be discharged by hand scooping the product out of the FIBC or cutting the base or sides of the FIBC.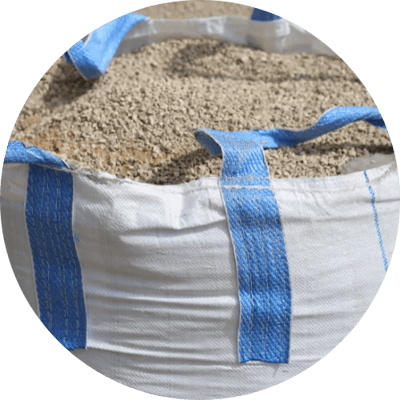 Storage of FIBCs
FIBC's have UV stabilisers added however UV from sunlight

will

weaken materials over a period of time. If FIBC's are stored outside for any length of time it is recommended that a tarpaulin or cover be placed over the bags to protect from UV degradation.
When using FIBCs…Do
Read and observe the instruction label on the FIBC.
Ensure the filled FIBC is stable on the pallet.
Use lifting gear of sufficient capacity to take the suspended load…. Adjust the distance between fork lift arms to the correct width for the bag-remember loops have to be at 90 degrees when lifting.
Check to make sure the forklift prongs are smooth or protected. Prongs can become sharp over a period and cut the fabric of the lifting loops. It is recommended that they are checked regularly and filed to remain smooth.
Ensure the safety factor is at least 5:1. When Using FIBCs Do Not…
Use any FIBC that shows signs of damage.
Exceed the safe working load of the FIBC.
Start or stop suddenly during transportation.
Lift the FIBC on anything other than four loops or the tunnels.
Drag the FIBC's.
Stack FIBC's unless you are sure of the stability.
FIBCs References
Do not allow personnal under suspended FIBC'S