Check out our wide selection of polythene sacks, bags & liners
Product Uses
Polythene bags, liners and sacks come in a dizzying array of sizes, colours and uses – from domestic to commercial there is a virtually limitless diversity of types and variations.
As well as being able to produce polythene sacks, liners and bags in any colour, size or customised branding Cliffe Packaging are also able to provide specialist products for specific uses, including:
Polythene Valve Sacks
Manufactured with a valve in one corner this type of polythene bag has an inner flap which seals after filling – thus preventing the contents from spilling out again. Polythene valve sacks can be produced with either internal or external valves together with embossed strips and/or GUR finish preventing movement on the pallet.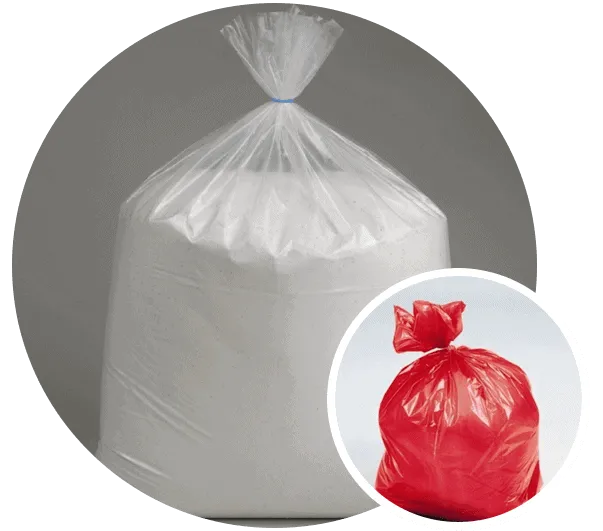 Block Bottom Polythene Sacks
An open mouthed polythene sack with square base designed to stand upright when being filled. As with our other bags Cliffe packaging are able to provide these in any colour required together with full branding, if needed.
Bottom Weld Polythene Pillow Sack
As the name suggests this popular standard polythene sack has a full top opening and weld across the base much like a domestic pillow case. Available in a range of sizes and densities from sandwich bags all the way up to commercial sacks
Mitred Bottom Polythene

Sack

Specifically designed with a welded base the Mitre Bottomed Sack is ideal for use with fine powders. The design of this multipurpose polythene bag helps prevent the powered product from clogging in the corners of the sack when being emptied. Whether for domestic, commercial or industrial use Cliffe packaging can provide what you need when you need it with our huge warehouse supply. Custom colours, prints, thicknesses and branding available for bespoke polythene bag orders.
Polythene Bag, Liner & Sack Printing
Printing available on any of our polythene bags, liners and sacks up to 6 colours enabling you to fully customise and brand your order.
Request A Quote
Cliffe Packaging are the people to talk to for polythene sacks, bags and liners. Able to supply a wide range of 'right this minute' orders for polythene bags our friendly and helpful account managers will be pleased to provide the perfect solution to your polythene sack or liner needs.